Soy Mozzarella because the world's worst vegan needs all the help he can get
Trader Joe's® soy mozzarella is a surprisingly good cheese substitute; it's no hand-made burrata or artisanal mozzarella, but it's a fair competitor in taste and texture to Kraft shredded mozzarella that comes in a plastic bag. It also has no saturated fat, so yay for heart health!
Why soy cheese?
Why not just use regular part-skim mozzarella? Or actual good mozzarella? I guess there are lots of reasons:
perhaps you are looking to reduce your fat intake or reduce your calories
perhaps you can't find actual good mozzarella and, following the principle of "don't eat bad food" you figure you might as well eat healthy food until you can find some high quality food
maybe Trader Joe's® is out of all of the other mozzarella
maybe you are, like me, a terrible vegan, and don't exactly count milk proteins as non-vegan
And probably other reasons. And your question is: can I tolerate this non-cheese on my pizza?
Trader Joe's® Soy Cheese
Trader Joe's® has a mozzarella flavor soy cheese alternative, which, described that way, does not install confidence in how close it will be to actually mozzarella.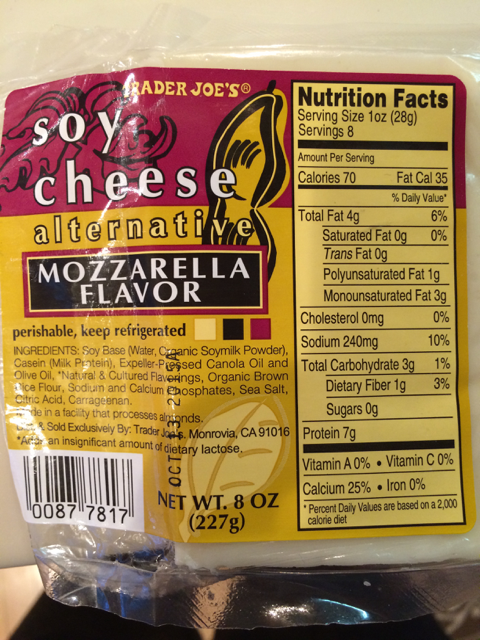 The good news is that the nutrition information is pretty encouraging, for 1 ounce of "cheese", you'll get:
| Total Fat |   | 4g |
| --- | --- | --- |
|   | Sat. Fat | 0g |
|   | Trans. Fat | 0g |
|   | Polyunsat. Fat | 1g |
|   | Monounsat. Fat | 3g |
| Protein |   | 7g |
So for the things that, at least, I care about, that's pretty good: no saturated fat, respectable amounts of poly- and mono-unsaturated fats, and a nice amount of protein.
Yes, but is it food?
Real cheese can be grated, has a good texture and flavor, melts on pizza, and is generally cheese-like. What about this soy cheese?
Well, it grates pretty well.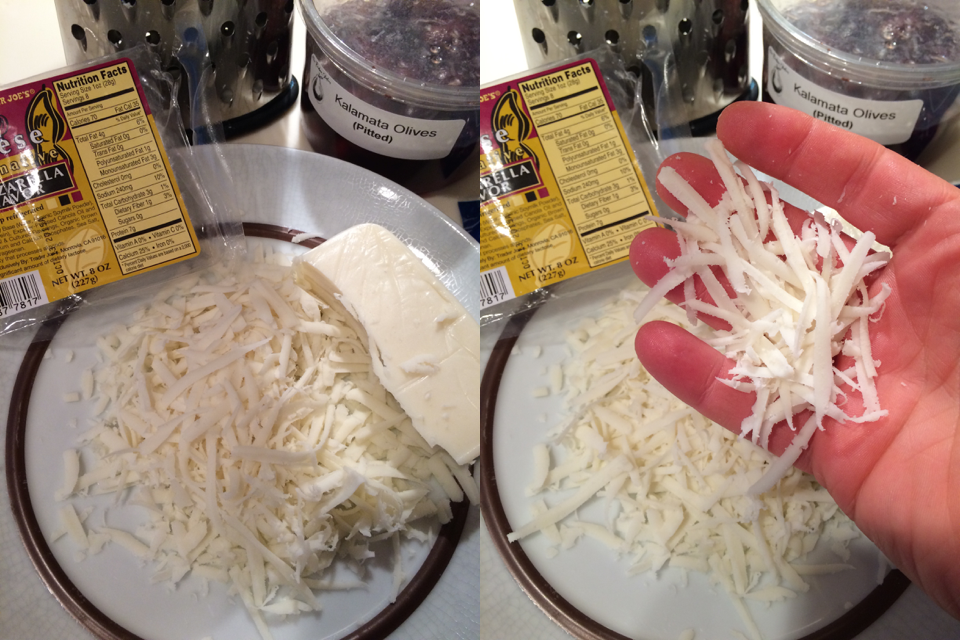 And, on pizza, it melts pretty well.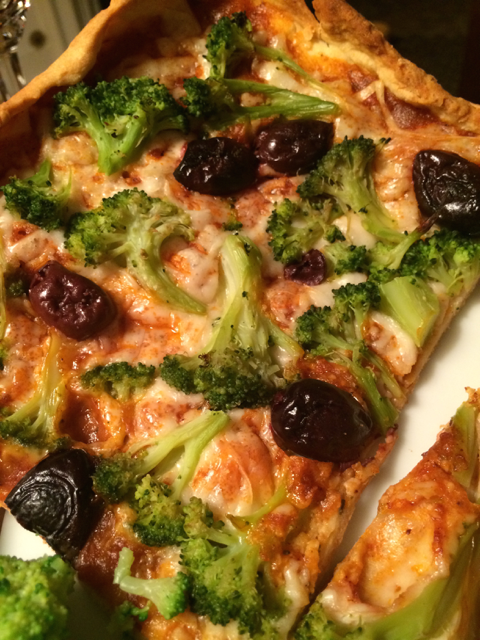 So yes, it's food. It's not vegan (unless you're a terrible vegan), but it is better for you than mozzarella from a plastic bag, and it tastes about the same.
Of course, given the choice between this and high quality mozzarella, go with the cheese every time.
---
---